Protection
PruBSN
Aman
Allows you to be connected with your community and to be protected simultaneously in one mobile app
Referral Code
601220537188
Use this referral code to start your journey with PruBSN Aman!

Death benefit
Offers RM7,000 to your loved ones as a financial support when you can no longer be there with them.

Khairat benefit
Assists your loved ones to get through difficult times when you pass away by paying for your funeral arrangements in partnership with a funeral service provider.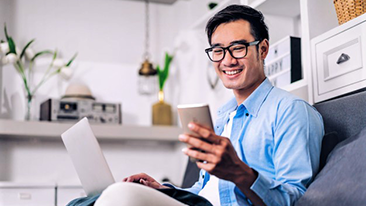 Easy subscription process
A simple, transparent and affordable plan that you can subscribe anytime, anywhere.
Product

details
Coverage and Contribution Terms
| | |
| --- | --- |
| Advance Contribution | RM120 |
| Eligibility Age | 19 - 65 years old |
| Expiry Age | 70 years old |
Benefit
| | |
| --- | --- |
| Death Benefit | RM7,000 payable to the nominee |
| Khairat Benefit | RM3,000 shall be paiddirectly to the Funeral Service Manager shouldyour next of kin exercise the option of utilisingthe funeral management service. If the funeralmanagement service is not utilised, this KhairatBenefit will be paid to your nominee |
Tax exemption
For PruBSN Aman, you may claim relevant insurance tax relief subject to the terms and conditions of the Inland Revenue Board of Malaysia.
Features
Be part of a community
By subscribing to PruBSN Aman, you and other participants mutually agree to assist each other, financially.
Easy subscription
Just a few minutes to subscribe. No need to attach medical report
Affordable
Only RM120 is required to complete your subscription. Claims amount will only be shared when there is any death among the participants
Transparency
You can view the live statistics such as number of participants, claims amount and Mutual Account balance, instantly.
Automated top-up
Save your debit/credit card onto the app so that when the automated top-up is required, it will be performed seamlessly
Khairat benefit
RM 3,000; which shall be paid directly to the Funeral Services Provider, should your nominee choose to utilise their service
Exclusive funeral services
Just call MyAngkasa Mukmin at 1800 38 7777. They will assist with funeral service arrangements
Death benefit
RM 7,000; which shall be paid to your nominee. RM10,000 will be paid to your nominee if the funeral services is not utilised
Ease of use
Your nominee just need to submit the death benefit claim remotely via app
Opt out anytime
Ability to opt out at any time. You will get the balance of your Mutual Account back
Important Notes
The above is only a brief description of our riders. For full details of the terms and conditions, please refer to your Certificate Document or contact our Customer Service Centre at +603 2053 7188 or customer@prubsn.com.my.

Age stated above refers to the Age of your next birthday.