Vital Takaful Tips:
How Comprehensive is Your Cancer Coverage?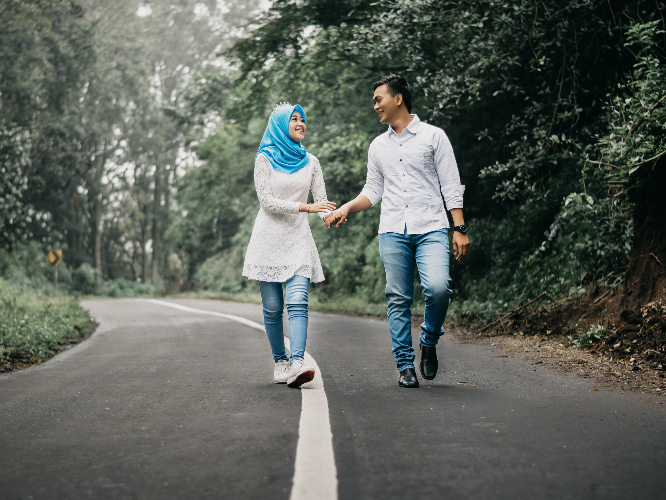 Cancer is one of the leading cause of deaths in the world.
48,639 new cancer cases were registered in Malaysia in 2020 alone, alongside 29,530 cancer-related deaths[i]. This is a significant increase when you take into account to the number of new cancer cases we recorded between 2012-2016. During that four-year period, there were 115,238 new cases, or an average of 28,809 per year[ii]. In fact, The Malaysian National Cancer Registry Report 2007-2011 estimates that one out of every ten men, and one out of every nine women has a lifetime risk of developing cancer[iii].
Many Malaysians are quite aware of these alarming statistics and have taken proactive measures to keep cancer at bay by leading healthier lifestyles. While this can reduce your risk of contracting cancer significantly, unfortunately, exercise and eating well doesn't necessarily guarantee a cancer-free life.
With this in mind, one of the most important things to do is to get yourself financially prepared if the worst-case scenario were to happen, and the best way to do this is by subscribing to a cancer-specific insurance policy or participating in a takaful plan. However, with a variety of takaful products available on the market catering to different protection coverage requirements, it may be overwhelming trying to decide which takaful certificate is the right one for you. And if you are an existing takaful subscriber, it is important to find out how far you are protected by your current certificate, especially with regards to cancer-specific illnesses.
Customised comprehensive protection with PruBSN AnugerahPlus
PruBSN AnugerahPlus is a customisable takaful solution that can be tailored to provide you with comprehensive cancer protection. With a monthly contribution that starts at only RM50, this certificate includes a minimum death or permanent disability coverage benefit of RM10,000, as well as an EduAchieve Bonus. These low contribution rates ensure that even those with less expendable income can afford to get themselves protected if cancer were to strike.
To provide you with flexible, customisable coverage, PruBSN AnugerahPlus includes several riders than can be attached to your plan. For the best in cancer coverage, however, we recommend you include the Medical and Critical Illness riders to your certificate.
As an overview, Medical riders cover hospitalisation expenses while Critical Illness riders replaces loss of income if you are diagnosed with a critical illness such as cancer while supporting additional related expenses. Let's go into more detail below.
Cover your hospital expenses with Medic Protector
Hospital bills can get expensive, especially if you require surgery and must be admitted. PruBSN Medic Protector is a medical card that provides you financial support with a lifetime's worth of medical care and treatments of up to RM400,000 annually. If you are diagnosed with cancer, Medic Protector will double your annual coverage, so you can focus on healing and not have to worry about finding the money to pay for your treatments.
While the diagnosis of cancer doubles up your annual coverage, the additional amount can be used to treat other illnesses.
Medic Protector also includes an additional lifetime limit for outpatient cancer treatment separate from your plan's annual limit, as well as a daily cash allowance for chemotherapy and radiotherapy treatments.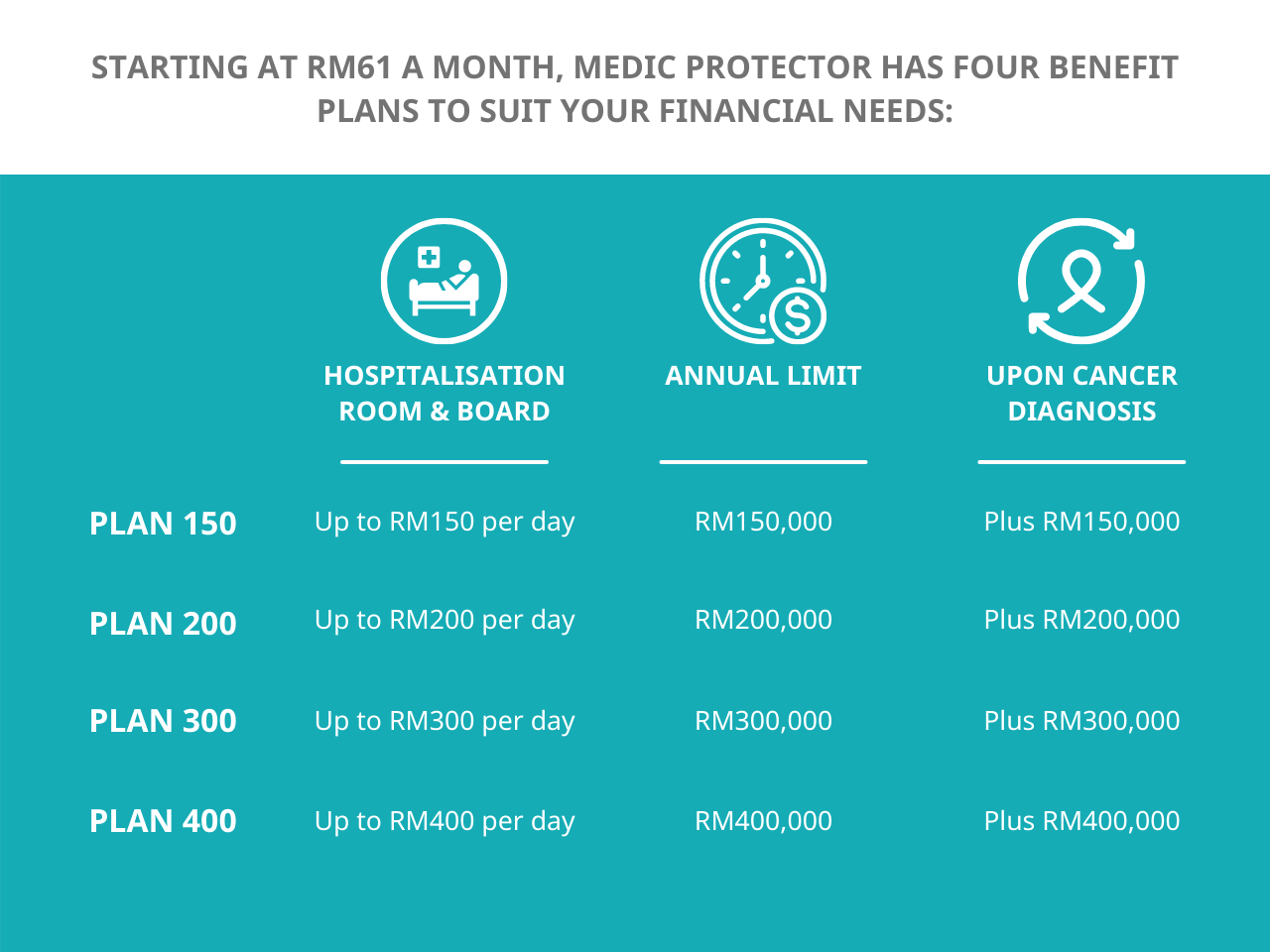 Besides these cancer-specific benefits, subscribing to Medic Protector pays for all your eligible hospitalisation needs.
Increase your annual limit by RM1,000,000 with Medic Booster
With a top up of RM14 onwards to your monthly contribution, you can increase your annual limit by an additional RM1,000,000 through Medic Booster. Available only with the Medic Protector rider[iv], this addition to your overall AnugerahPlus certificate can provide significant peace of mind and get you the treatment you need. Furthermore, Medic Booster will also double up your lifetime limit for outpatient cancer treatments.
Receive a lump sum amount with Crisis Shield and Crisis Protector
Crisis Shield and Crisis Protector are two Critical Illness riders that will give you a lump sum payment of RM10,000 minimum upon the diagnosis of any of the 43 covered critical illnesses, including cancer. This provides you with some financial support to take care of your immediate needs during the early days of your diagnosis and treatments.
The benefits from these riders can be used to help support alternative treatments or treatments that are not covered under your medical plan, or as an income replacement if you are unable to work due to cancer or a critical illness.
Cancer-specific lump sum payment with Cancer Protector
Give yourself additional protection with Cancer Protector. With a coverage of RM50,000 up to RM2,000,000, you can claim 5% of the sum covered within the very first year of your certificate upon the diagnosis of early-stage cancer (or 10% from the second year onwards), while the balance can be claimed if your cancer progresses to late-stage cancer. This amount can be used to pay for your treatments, as income replacement should you need to take an extended leave or are unable to continue working, or for any other related expenses.
Cancer is worrying, but we can help you be prepared for any eventuality with PruBSN AnugerahPlus. With an expiry date of 100 years old, you can start your cancer protection from anywhere between 1 to 70 years of age. This is especially useful if there is history of cancer in your family, so you can start protecting yourself and your children while they are still young.
Talk to one of our Takaful Agents today to find out more about PruBSN AnugerahPlus, because if that diagnosis comes back malignant, all we want you to do is fight the good fight and focus on getting better. Let us help you take care of the medical bills.
[i] Malaysia Fact Sheets by World Health Organization, International Agency for Research on Cancer,
[ii] Cancer Cases Rise in Malaysia, Chinese Most Prone by CodeBlue, 03 January 2020,
[iii] World Cancer Day 2019 Factsheet for Healthcare Providers by Disease Control Division Ministry of Health Malaysia
[iv] Specifically via the Medic Protector - Level Contribution option
Did you know?
As a PruBSN takaful participant, our Medical, Critical Illness and Contributor riders will provide you with medical benefits for treatments, lump sum payments for income replacement, as well as contribution payment assistance to ensure you receive uninterrupted covered from your takaful plan if you are diagnosed with cancer or a critical illness.