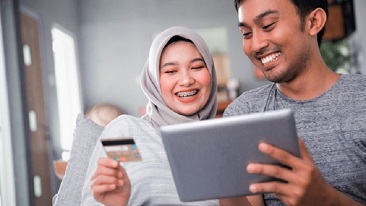 Riders
Contributor
Spouse Saver
This Shariah-compliant takaful rider secures your savings plan, even when the unfortunate happens to your spouse.
Reasons to consider

Contributor Spouse Saver

No one knows if and when an unfortunate incident will strike. But we can take steps to prepare for the unexpected.

If your spouse is diagnosed with a critical illness, becomes totally and permanently disabled, or passes away, Contributor Spouse Saver will help ensure your family remains financially secure by providing an annual benefit equal to your investment contributions.

Boost your income protection takaful plan with this Shariah-compliant rider for assurance that your loved ones will stay covered, no matter what happens.
Product

details
Features and Coverage
| | |
| --- | --- |
| Protection Features | This rider gives you an annual benefit equal to the investment contributions when your spouse becomes totally and permanently disabled before the age of 70, diagnosed with a critical illness or passes away. |
| Eligibility Age | 19 to 70 years old (adult) |
| Expiry Age | Up to 100 years old |
Important Notes
The above is only a brief description of our riders. For full details of the terms and conditions, please refer to your Certificate Document, servicing agent or contact our Customer Service Centre at +603 2053 7188 or customer@prubsn.com.my.

Age stated above refers to the Age of your next birthday.
This add-on
can be part of
This rider is an add on to the products below, which is designed to help you to find a coverage that tailors to your needs and goals.
Understanding riders
What is a rider?
A rider is a product which adds benefits to your basic takaful plan. Attaching a rider to your basic plan provides you with options such as addtional coverage so you can customise your plan to suit your needs.