Protection
Lindungi
With Lindungi you can ensure that your family is protected even when you are no longer around or able to. Lindungi is a yearly renewable Takaful plan which offers coverage on Death and Total and Permanent Disability (TPD) benefit for you.

Visit any Prudential BSN branch to enroll.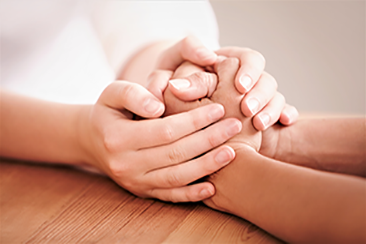 Financial Protection
Provide your family with a lump sum of cash if you lose your life, where they can continue their living without financial worries.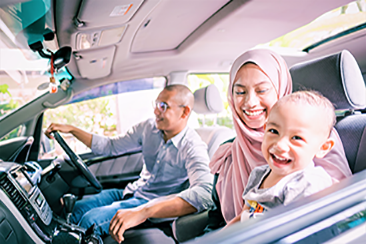 Simplified Underwriting
You just need to answer three (3) health questions to participate in this plan and no medical check-up is required.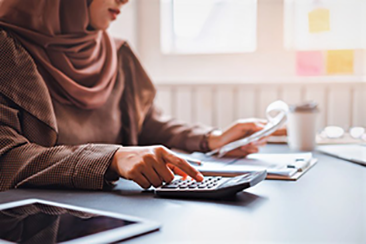 Affordable Contribution
With contribution from as low as RM0.15* a day, it offers both financial security and peace of mind within your means.

*For female age between 19 and 42 years old (age next birthday), with sum covered of RM20,000.
Product

Details
Coverage Term
Eligibility Age – 19 to 60 age next birthday
Minimum Sum Covered – RM20,000
Coverage Term - Yearly renewable until maximum expiry age of 70 (age next birthday)
Benefits
Death Benefit
In the event of Covered Person's death, 100% of the Sum Covered will be payable from the Tabarru ` Fund.
Total and Permanent Disability (TPD) Benefit
In the event of Covered Person suffering from TPD, 100% of the Sum Covered will be payable from the Tabarru ` Fund.
Note: Payment of this benefit will reduce the Death Benefit.
How to Enroll in this Plan?
How to Submit Claims?
How do I submit claims?
You may download the relevant claim forms here (www.prubsn.com.my), obtained at any PruBSN branch, or request it by sending email to customer@prubsn.com.my or contact PruBSN Customer Service line at 03 2775 7188 (Monday to Friday, 8.30a.m. - 5.15p.m.).
How long will it take to process a claim?
Upon receiving the complete claims documents required, the claim payment will be processed within 14 working days.
How to Make a Nomination?
Why is it important to make a nomination?
Nomination is important to ensure that your loved ones will receive the protection as intended by you and that certificate benefits can be paid out by PruBSN without any delay. The nominee can be either an executor (wasi) or a beneficiary under a conditional Hibah (Gift). Without a nomination, the certificate benefits will be paid out to your lawful executor or administrator to distribute it in accordance to the applicable laws of distribution. The process may take a while.
It is important for you to inform your nominee about the certificate benefits and nomination.
Who can I nominate for my certificate?
The nominee has to be an individual. Nomination of an organization is not allowed.
If your nominee is below the age of 18 at the point of claim, the benefits will be paid to the surviving parent or a proper claimant i.e. legal guardian, subject to the relevant legal evidence/supporting documents.
How to make a nomination?
You can decide who you wish to be the nominee(s) to receive the benefits by completing the nomination form with a witness and submit it via the following channels or any other channel PruBSN may make available to you from time to time:
a. walk-in to PruBSN Branch; or
b. email to customer@prubsn.com.my.
The nomination form will be made available to you:
a. at PruBSN Branch; or
b. on PruBSN corporate website at www.prubsn.com.my.
How to Cancel the Certificate?
If you cancel your certificate within the first 15 days after participating in this plan, PruBSN will refund the contribution paid.
However, if you choose to cancel your certificate at any point after the 15 days, contribution paid will not be refunded. Instead, we will keep your coverage until the certificate anniversary after your notification.
Please note that you will not be able to revive the certificate after you have cancelled it. If you decide to participate again, you will need to submit a new application for enrollment. Please carefully consider if cancelling the coverage is the best decision for you.
Tax Exemption
Subject to the terms and conditions of the Inland Revenue Board of Malaysia, the contribution paid for this plan may claim for personal income tax relief under Life Insurance/Family Takaful category.
Important Notes
The above is only a brief description of our product. For more information on Lindungi, kindly refer to the Product Disclosure Sheet before participating in this plan and refer to the terms and conditions in the Certificate Document for details on the important features as well as exclusions that apply to the plan.