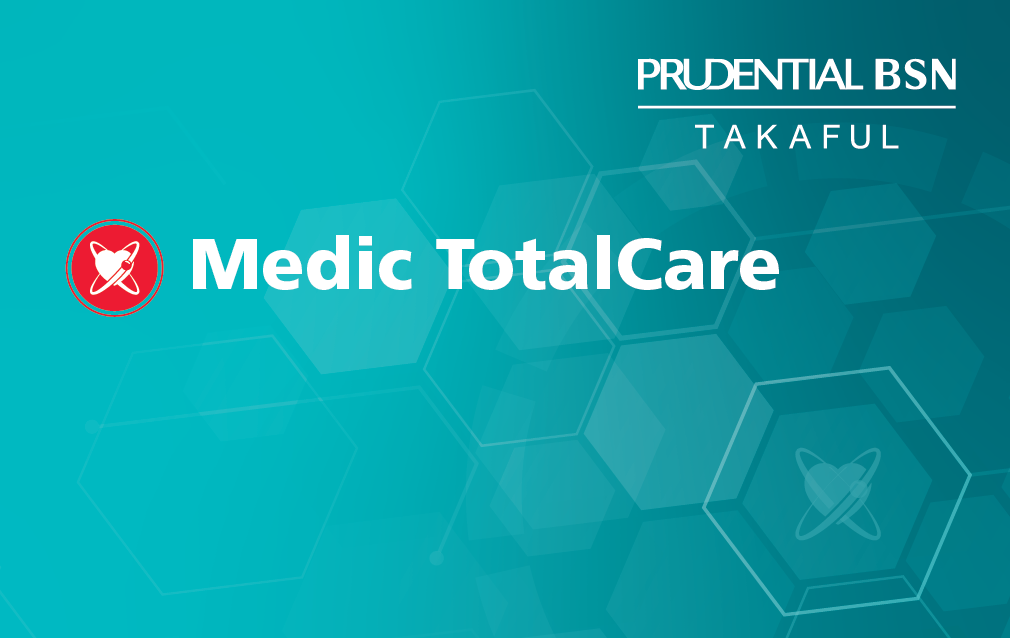 Riders
Medic
TotalCare
Provides a wide range of hospitalisation and medical treatment coverage to take care of your healthcare needs, including extensive cancer coverage, advanced medical treatment, and mental health care, as well as various outpatient treatment benefits and other unique value-added benefits.
Product

Details
Features and Coverage
Protection Features

This medical rider provides financial support in the event of hospitalisation and surgery or selected outpatient treatment, with extra benefits such as Extensive Cancer Coverage, Advanced Medical Treatment, Mental Health Care, and many more.

You have the flexibility to choose the room and board plan, as well as the contribution co-payment option to suits your protection needs and affordability.

You can also boost your medical coverage by attaching Medic BoostCare and enjoy No Claim Health Reward for staying healthy.

Medic BoostCare

Available for Medic TotalCare with level contribution only, Medic BoostCare offers an additional RM1,000,000 annual limit to account for medical inflation, as well as other extended coverage including:

Double up the lifetime limit for Outpatient Kidney Dialysis Treatment, Outpatient Cancer Treatment and Additional Advanced Medical Treatment Limit

Unlimited number of days for Hospital Daily Room and Board as well as the Intensive Care Unit / Cardiac Care Unit

No Claim Health Reward of RM500*

and many more!

* only for Plan 300 and Plan 400.

Eligibility Age

1 to 70 years old

Expiry Age

Up to 100 years old
Contribution
| | |
| --- | --- |
| Contribution Payment Term | Throughout the coverage term |
| Annual Contribution | |
Important Notes
The above is only a brief description of our riders. For full details of the terms and conditions, please refer to your Certificate Document, servicing agent or contact our Customer Service Centre at +603 2053 7188 or customer@prubsn.com.my.

If you wish to speak to one of our takaful consultants, please click here.

Age stated above refers to the Age of your next birthday.
This add-on
can be part of
This rider is an add-on to the products below, which is designed to help you to find a coverage that tailors to your needs and goals.
Understanding riders
What is a rider?
A rider is a product which adds benefits to your basic takaful plan. Attaching a rider to your basic plan provides you with options such as addtional coverage so you can customise your plan to suit your needs.