Protection
PruBSN
Damai
A comprehensive and modern medical solution package that helps you overcome your worries and concerns about healthcare and other life uncertainties.
Get covered up till 100 years of age for death, total and permanent disability, medical and hospitalisation, critical illnesses, accidents and more, with this Shariah-compliant takaful plan.
*NEW*
PruBSN DamaiGenZ
- A solution package specifically designed for the dynamic lives of Generation Z.
Download PruBSN Damai Brochure
Download PruBSN DamaiGenZ Flyer
Reasons to consider

PruBSN Damai

No one knows when an accident or illness will strike. And with healthcare becoming more expensive, it pays to be prepared for the unexpected.

PruBSN Damai can be your shield against a potential financial crisis, should the unfortunate happen.

This health protection solution package consists of PruBSN AnugerahPlus, a regular contribution family takaful plan that comes with Medic TotalCare, along with other riders and various add-on benefits, giving you flexibility to customise your coverage according to your needs and budget.

Among others, you will get extensive cancer coverage via Medic TotalCare, including additional annual limits and a high lifetime limit for outpatient cancer treatments.

Medic TotalCare also provides an additional limit on top of your annual limit for advanced medical treatments. And with increasing demand for mental health care, you will also have support for mental health treatments, with coverage for eight major mental disorder conditions for both inpatient and outpatient psychiatric treatments.

Don't leave your health and financial security to chance. Secure the income protection you and your family deserve, for total peace of mind.

Comprehensive Protection in One Plan
Get your medical and life protection as well as other additional coverage for critical illness and accidental that bring peace to your mind.

Extensive Cancer Coverage and Advanced Medical Treatments
Enjoy comprehensive coverage for cancer treatments, including additional limits, coverage for follow-up care, and access to advanced medical treatments so you get the best treatment possible.

Mental Health Care
Get appropriate treatment for your mental health conditions as they don't improve on their own and if left untreated, may get worse and cause other serious problems.

Empower Dreams of the Generation Z
No matter where life takes you, go with confidence knowing that PruBSN DamaiGenZ has got your back in more ways than one.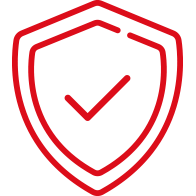 Protected from medical expenses and critical illness.
Customise your plan to protect yourself from the sudden, hefty medical bill of different treatments and overcome your worries on other life uncertainties.
Medic TotalCare

Provides a wide range of hospitalisation and medical treatment coverage to take care of your healthcare needs, including extensive cancer coverage, advanced medical treatment, and mental health care, as well as various outpatient treatment benefits and other unique value-added benefits.

Crisis
Protector

Offers extra protection so you could prepare your fight against critical illness as soon as you are diagnosed.

Accidental Medical Protector

Helps you to deal with the heavy medical expenses that come after an accident.
Product

details
Coverage and Payment Terms
Contribution Term

Throughout the coverage term

Eligibility Age

1 to 70 (age next birthday).

Note: For certificate that mature at age 70, maximum entry age is 60 (age next birthday).

Expiry Age

Up to 100 years old

Minimum Sum Covered

RM10,000
Features
Customisable Protection Plan
Attach your preferred riders that suit your needs for a comprehensive coverage.
Comprehensive Medical Coverage
Cover various medical and hospitalisation benefits, with flexibility to choose on the types of room and board, the co-payment options and contribution options to suit your individual needs and affordability.
Recommended Add-on Benefits
Here is an overview of the recommended package solution for PruBSN Damai.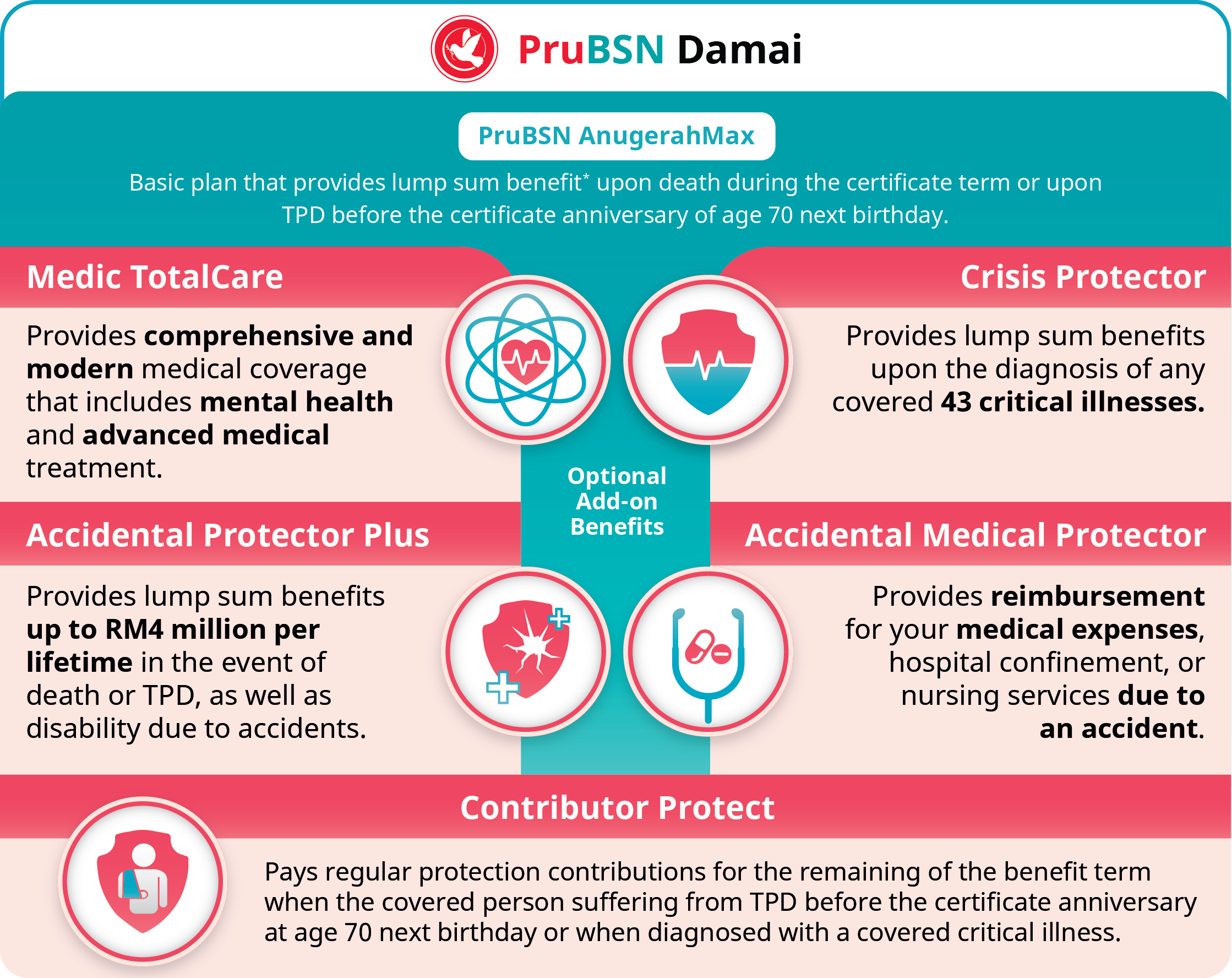 Tax Exemption
Up to RM6,000 under Life Insurance and EPF, subject to terms and conditions of Inland Revenue Board (IRB).
Important Notes
The above is only a brief description of our riders. For full details of the terms and conditions, please refer to your Certificate Document, servicing agent or contact our Customer Service Centre at +603 2775 7188 or customer@prubsn.com.my.

Age stated above refers to the age of your next birthday.
Strengthen your plan
with add-ons
Understanding riders
What is a rider?
A rider is a product which adds benefits to your basic takaful plan. Attaching a rider to your basic plan provides you with options such as additional coverage so you can customise the plan to suit your own needs.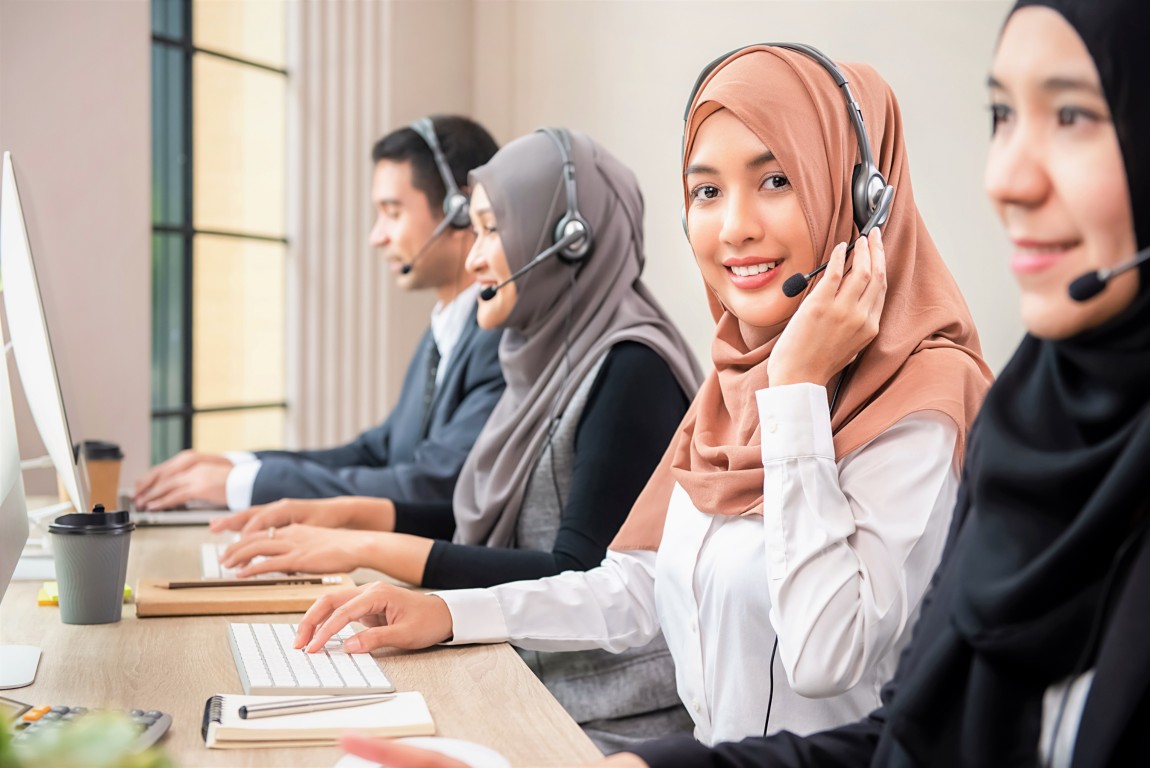 Prefer to speak

to us?

Customer Service Center

Tel : (+603) 2775 7188
Email : customer@prubsn.com.my

Monday - Friday: 8.30am to 5.15pm
Saturday, Sunday & Public Holiday: Closed

Address : Level 13, Menara Prudential, Persiaran TRX Barat, 55188 Tun Razak Exchange, Kuala Lumpur, Malaysia